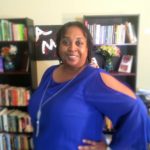 Greetings, Hot Tea and Ice Sippers!  I don't know about you, but I'm more than ready for spring to officially arrive. I love the opportunity to bundle up with thick sweaters and strut my stuff in cute boots, but I'd much rather leave the house wearing a light jacket or long sleeves rather than worry about a bulky coat. But seasons come and seasons go. All we can do is carry on and look good in the process.
For those who keep up with such things, March is recognized as Women's History Month.  For 31 days, we aim to recognize those women who have made strides in so many different arenas, ranging from politics to business.  For example, you have Shirley Chisholm, the first Black woman elected to Congress.
Then there's Malala Yousafzai, Pakistani activist for female education, who at the age of 17 became the youngest-ever Nobel Prize laureate.  Ms. Yousafzai was awarded the Nobel Peace Prize for her work against the suppression of children and young people, and her battle to help guarantee the right of education for all children.
We honor Katherine Johnson, who helped send a man into space.  There's Shonda Rhimes, who keeps us glued to our devices every Thursday. We celebrate our foremothers, our sister superstars and those who are up and coming. We pay tribute to those women who know who they are and what they are "working with"–and don't shy away from letting others know who they are, what they have done, and can do.
During Women's History Month, we recognize those women who know the value of their achievements and didn't shy away from being proud of their talents. As a woman who is not ashamed of admitting I Goggle myself to remind myself of all that I've achieved, I fully support being proud of the things that set you apart.
As the saying goes, it's not bragging if it's true. If you have something to be proud of, celebrate it to the fullest!  Don't hide your talent under a bush. Let your  little light shine.
Along with writing novels and short stories, Hankins also writes a monthly column- Hot Tea and Ice. Here is a sample of this month's selection. For more, click on the picture and be ready to have your literary thirst quenched.