Upcoming Events
La Toya Hankins will be part of a panel discussion with notable writers August 4th at the Potters House in D.C.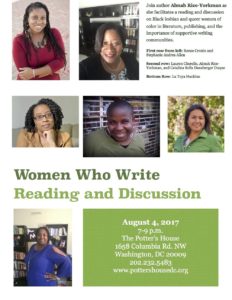 La Toya will be vending during Outwrite 2017 at the DC Center August 5, 2017. She will also be part of a panel discussion with BLF Press publisher Stephanie A. Allen and author Renee Cronin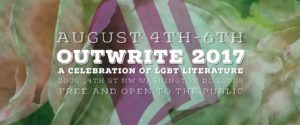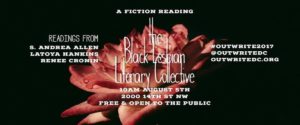 PAST EVENTS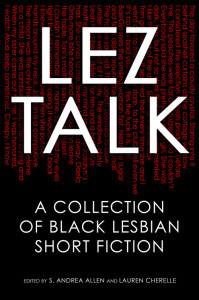 Lez Talk Book Tour – Durham, NC
Join us for an intimate reading and book signing at TheLRoom in Durham, North Carolina. Meet publisher and editor, S. Andrea Allen, and contributors LaToya Hankins and K.A. Smith.
OutWrite is a celebration of LGBT Literature. The weekend is full of book readings, writing workshops, book discussions, poetry readings and more. I will be one of the vendors on Saturday August 6th.
The 6th Annual OutWrite LGBT Book Festival will take place Friday August 5th through Sunday August 7th with most events taking place at the Reeves Center in Washington DC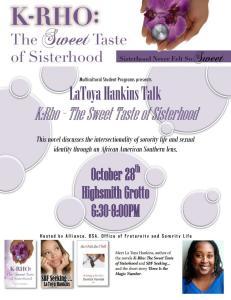 August 30-Ladies of Literature 2014- 11 a.m. to 3 p.m.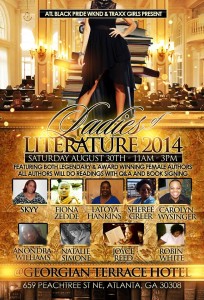 July 28 from 7 to 9 p.m. La Toya Hankins will participate in a Twitter and Facebook chat with readers and the simply curious. Participants will be entered into a drawing worth $50.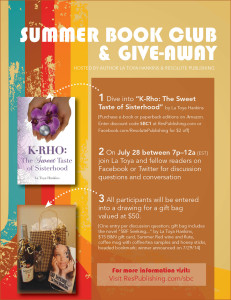 La Toya Hankins will be one of three authors spotlighted during the Monthly Ask Rayceen Show .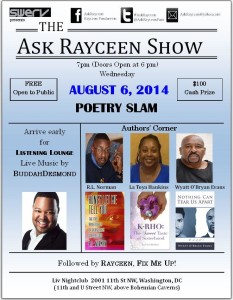 September 19 & 20, 2014 – Black Writers and Book Club Literary Festival (Memphis, TN)

. September 19 & 20, 2014 – Black Writers and Book Club Literary Festival (Memphis, TN)

April 3, 2014 – North Carolina Literary Festival, Lunch and Learn (Raleigh, NC)
http://www.lib.ncsu.edu/literaryfestival/

Author reading and Book Signing, Zetas of Charlotte, March 2014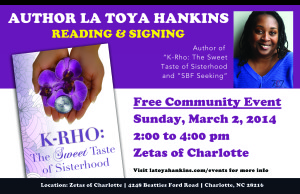 February 2014-Author Reading and Discussion-North Carolina Central University
Labor Day 2013 – Ladies of Literature, Atlanta Black Pride