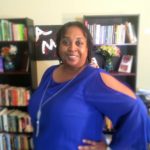 Along with writing novels and short stories, Hankins also writes a monthly column- Hot Tea and Ice. Here is a sample of this month's selection. For more, click on the picture and be ready to have your literary thirst quenched.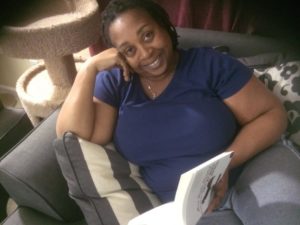 Greetings and Salutations, Hot Tea and Ice Sippers!  I send well wishes, and hope that 2017 has been filled with good things. We are not going to talk about what happened in D.C. on the third Friday of this month. It is enough to say we should not focus on being discouraged. Instead, we need to commit ourselves to being active, and refuse to let anyone ignore or minimize our value and contributions to this country.
Within this climate of wanting to minimize the diversity that strengthens our community, I want to step forward and represent myself fully. I am a Black-Southern-Virgo-East Carolina University graduate-only child-pet owner-lesbian. That's just for starters! With enough time I could list even more hyphenated identified groups of which I'm proud to belong.
Depending on the setting, one hyphen might take center stage more than the others. For those who follow social media, J16 saw a lot of doves flying, and blue and white profiling in recognition of my sorority, Zeta Phi Beta, Inc., celebrating its ninety-seventh Founders' Day. There were abundances of graphics incorporating our national symbol–the white dove–soaring around.
If you read my books, you know I own being born and reared in the land of sweet tea and "Bless Her Hearts," known as the South.  I'm proud of all the facets of my identity. While I may not celebrate them all the time, I have no problems claiming them.
Our distinctive hyphens make us exceptional. We should never diminish our shine in order to make someone else feels comfortable. You should claim all your methods of belonging and identifying because it celebrates that you accept all that you are, and never just one thing. Those of us with hyphenated identities are mosaic masterpieces. The sum of the pieces makes a one-of-a-kind work of art.
Far be it for me to make the process of walking boldly when others want you to fragment your identity seem easy, for it is not. For a lot of us, it's easier to not claim our space as a woman, person of color, same-gender-loving individual, and immigrant in order to assimilate. However, when you remove a piece of your puzzle or try to rework your edges, it feels unnatural and ends up being unnecessary.
Now more than ever, it is important that we wear our hyphens boldly. We cannot fade away or leave a piece of us behind on the nightstand or in the car when we venture into the world. Representing to the fullest is a mandate we need to follow through on every chance we get. Others are watching, and when they see us showing up in all our fullest, they have two choices. Get with the program and allow our brilliance to flourish, or get back.