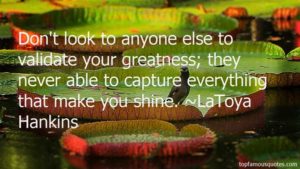 Late night visits to adult bookstores. Coming out shows on college campuses. Climbing the corporate ladders while never forgetting your roots. The love and support of sister/lovers/friends.
La Toya Hankins seeks to capture the lives of the new Southern women in her novels, SBF Seeking… and K-Rho: The Sweet Taste of Sisterhood. Dedicated to capturing the experiences of women' voices often left unheard in contemporary fiction, Hankins takes the reader to the cities and towns of her native North Carolina and showcases the experiences of living for one self instead of up to the expectations of others.
Kiara, Donna, Yvette, Yolanda, Danita and Gloria are more than just characters. They are the sisters, sorors, daughters, and friends we all have in our lives.
Have you found what you are looking for and do you have a sisterhood that supersede sexuality? Come visit the word of Toya and find yourself among the pages.